Covering American Politics: Does the Old Shoe Still Fit?

Please join the Harvard Club of New Hampshire as we cover American politics on January 25th, 7 to 8 p.m. EST via Zoom.
Co-sponsored by the Harvard Kennedy School, New England Alumni Association, and Harvard Shorenstein Center on Media, Politics, and Public Policy.
Should the gold standard in journalistic reporting be changed?
How sacred is a neutral reporting style that had been the standard for decades?
When there's rampant disinformation and rhetoric that distorts facts or presents false claims, is a new approach now needed?
Should there be a shift toward more interpretation to better inform a bombarded public lacking time to research the subtext of politics and policy debates?
What is the value of journalistic objectivity in an era of media manipulation and distortion?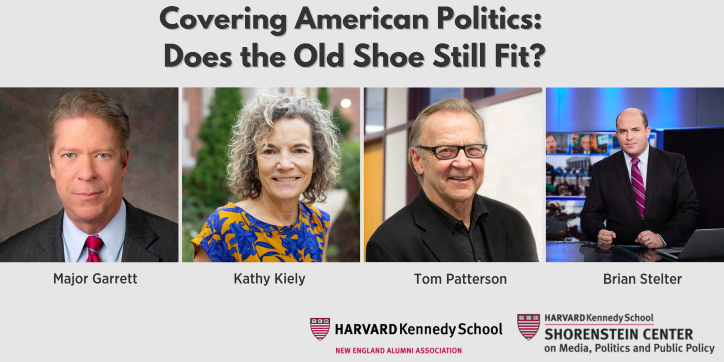 Join three experienced journalists and a professor of government and media in a discussion about the current and potential future paths for American political journalism.
Major Garrett, CBS News chief Washington correspondent.
Kathy Kiely is the Lee Hills Chair in Free-Press Studies at Missouri School of Journalism and former White House correspondent.
Thomas E. Patterson is Bradlee Professor of Government and the Press at Harvard Kennedy School.
Brian Stelter, former CNN anchor of "Reliable Sources."
Please register by clicking here.