Harvard Club of New Hampshire Annual Meeting
April 23rd at Manchester Country Club
Our first in-person annual meeting since 2019 is set for 12noon to 3pm on Sunday, April 23, 2023, at the Manchester Country Club in Bedford, NH. There will be a reception (cash bar, with a drink ticket for beer, wine or soft drink provided to each attendee, plus hors d'oeuvres provided by the Club), followed by a delicious buffet luncheon. Following a brief business meeting, our speaker will be Prof. Karl Kaiser, Professor of Public Policy Emeritus at the Harvard Kennedy School, whose topic will be "The Ukraine War and its International Implications".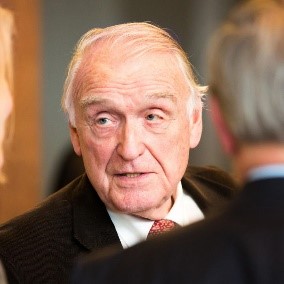 Prof. Karl Kaiser is a fellow at the Project on Europe and the Transatlantic Relationship at Harvard Kennedy School, where he is an adjunct professor for public policy emeritus. At CES, he is co-chair of the European Union Seminar. He was the Otto-Wolf-Director of the German Council on Foreign Relations, Bonn/Berlin, and is professor emeritus at the University of Bonn. He was also a Kennedy Fellow at CES. He has published numerous books and articles on German, British, French, and American foreign policies, transatlantic and East-West relations, European integration, and Asian-European relations.
The cost will be $25 per individual or $45 per couple, payable by check (payable to The Harvard Club of New Hampshire), via PayPal to our Club account, or at the door. For planning purposes, we do need to provide a count to the Country Club two weeks in advance, so if you plan to attend, please email Doug Chamberlain indicating (1) the number in your party, and (2) whether you will mail a check, remit via PayPal or pay at the door.

For questions/payment, please contact Doug Chamberlain: email address is douglasrchamberlain@icloud.com, and mailing address is 1465 Hooksett Road, Unit 414, Hooksett, NH 03106. (PLEASE remember to include the unit number!)

We look forward to seeing many of you at Manchester Country Club on April 23rd!