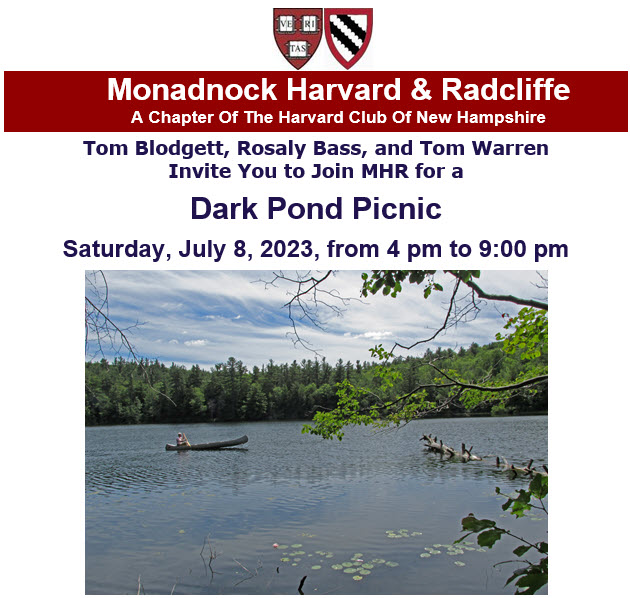 Tom Blodgett, Rosaly Bass, and Tom Warren invite you to join Monadnock Harvard & Radcliffe (MHR), a chapter of The Harvard Club Of New Hampshire, for a Dark Pond Picnic, Saturday, July 8, 2023, from 4 pm to 9:00 pm.
Grilled sirloin burgers and roasted chicken will be served. Bring appetizers, salads, fruit and desserts for our potluck array.
Fancy dress preferred, neckties and madras jackets for men.
Wine, champagne, and hors d'oeuvres from 4 to 5:30 pm. MHR Annual Meeting at 5:30 pm, and dinner at 5:45. Seating will be at five 8' tables with 40 chairs. Older children are welcome. Polka band music for dinner, and dancing under the stars until 9 pm. Bathroom facilities will be provided.
In addition, join us for a nature walk at 3 pm with Tom Warren around this pristine lake, part of the Brewster Forest until it was purchased in the 1920s. Up to two cars can come at 11 am for bass fishing.
Parking is very limited, so we will meet at Friendly Farm to car-pool and drive in with full cars. The Dark Pond road, between stone pillars, is a left turn off Rt. 101, heading West, exactly 400 yards beyond the West Lake Road, at the NW corner of Dublin Lake. As you drive downhill from the West Lake Road turnoff, you will see the driveway. Correspondingly, heading East, the Dark Pond driveway is 300 yards up from Friendly Farm. The three parking areas at the Pond (marked with ribbons), hold 2, 4, and 4 cars respectively. There will be a fourth marked 6-car parking area a hundred yards up a hill from the picnic area (park facing out).
If you have any questions, please call or e-mail Tom Blodgett (603-924-8030 or tblodgett@ft.newyorklife.com) or Rosaly Bass (603-924-7772 or rosalybass@aol.com)
RSVP for Monadnock Harvard & Radcliffe Dark Pond Picnic by noting the requested information below with your payment. Cost is $25 per individual or $40 per couple. Please mail with your check (payable to Monadnock Harvard & Radcliffe) to: MHR c/o Tom Blodgett, P.O. Box 84, Dublin, NH 03444